The programs and events we organized in frame of the European Mobility Week 2011 had quite a huge success. The Car Free Day - which supposed to take place on September 22 (Thursday) - was transformed into a car free weekend (September 18-19) for the ironic reason not to disturb weekdays' car traffic - well, and maybe to get more people to participate on the events. The "car free" part was only implemented on the Andrássy street which can be regarded as the Champs-Élysées of Budapest.
Our aim was to gather all cycling related programs and events in one place. On Sunday a significant part - about 200 meters - of the Andrássy street was filled with programs only about cycling. The Hungarian Cyclist' Club (HCC) did not only coordinate the different actors, we organized own events as well.
Sunday started with a very important event: János László (president of HCC) and Dávid Vitézy (CEO of Centre of Budapest Transport - BKK) signed a partnership agreement. The HCC is the first NGO who managed to establish the legal background for the future cooperation with BKK. The agreement describes the details of cooperation between the two organizations - the main fields are: Education & Communication, Research & Surveys, Infrastructure. There will be regular monthly meetings, the minutes will be available online.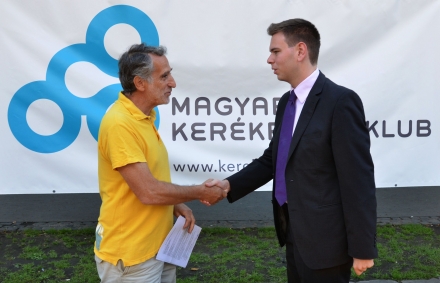 János László (HCC) and Dávid Vitézy (BKK)
Cycling related programs & events for the car free weekend
Bike with Guide – Our volunteers (HCC-Budapest-Downtown) organized 3 tours in the afternoon, which led through downtown Budapest. The aim of our "Bike with Guide" campaign is to persuade people to use their bike as a mean of transport by showing and teaching them how to cycle safely in the city and how to cope with city traffic. Details about the campaign can be found here.

Bike Kitchen Budapest – At the Bike Kitchen's tent volunteers of HCC-Budapest-Downtown helped people to repair their bikes and gave them useful maintenance tips, fixed punctures etc. If you would like to know more about this initiative, click here to visit their page [HU].

Find your Match – a friend-finder game, people could pick up stickers from our information desk and stick them on their shirts. They had to find other people in the crowd who were wearing matching stickers. There were two kinds of stickers a cycling rabbit and a cycling owl. If somebody found a match they had to come back together to our tent and hop on together on the tandem bike. If they were able to do a round they received lights and other bike accessories.

Budapest Bicycle Map – We installed a huge map of Budapest next to our information desk where people could highlight the routes they use for daily commuting creating a manual version of the city's bicycle heat map.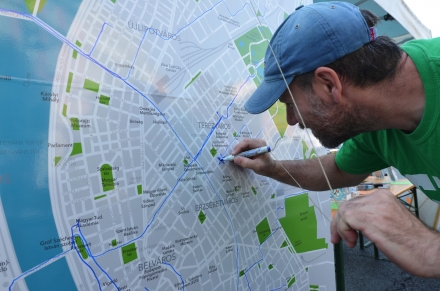 The lines are getting thicker and thicker

Me and My Bike Photo Shooting – Professional photographers made professional photos of people posing with their bicycles. This was one of the most popular programs, people even stood in line to participate.

Tyre Pumping Contest – the fastest ones received prizes.

Bike Bell Concert – There were about 15 bicycle bells mounted on a contemporary art piece and children played on them featuring a famous Hungarian musician, András Hajós. A pretty unique song was the result, video is coming soon.

Bike to School participants giving a bell-concert with a Hungarian celebrity
Bike Puzzle – We created a huge puzzle that was very popular among kids. Even if the parents hadn't been really fond of cycling, they had to stop, because the children wouldn't let them pass without solving the puzzle.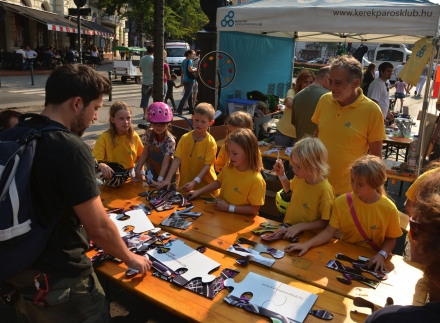 Huge bike puzzle
Hungarian Cycle Chic photo exhibition – the Cycle Chic blogs don't need any introduction, there is one for almost every main European city. The Hungarian version is among best, they organize exhibitions, fashion shows, make wonderful videos about the joy of cycling, etc. On Sunday the guys from Cycle Chic prepared a photo exhibition from their best pictures, and helped us to organize a fashion show.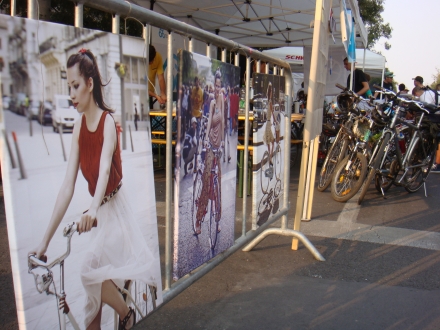 Cycle Chic photo exhibition
40+ Fashion Show – With the help of our Cycle Chic friends we organized a fashion show with amateur models aged 40 and above. The aim was to show that being chic on a bicycle does not have any age limits. This was the lead motto that we tried to communicate with posters and leaflets, that cycling is not only for young and sporty people – everyone can hop on a bike. (Photos are going to be uploaded soon.) And for those who did not learn how to cycle when they were children, we launched the HCC Bicycle-School.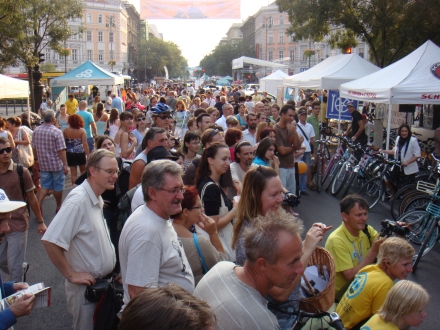 Happy faces watching the fashion show
Bicycle-School – There are quite a few adults who did not have the chance to learn cycling when they were little. This is why we started the bicycle school in spring – to teach people the basics of cycling. We brought two bikes without pedals – that way it is easier to put down your feet when you lose balance - and there was a designated track also. There was a tandem bike too, which was very popular especially among children. Unfortunately, Bicycle School programs are not yet regular, only occasionally, but with this school we cover all stages of cycling: The Bicycle School for those who can't cycle, the Bike with Guide for those who know how to cycle but need a push to try that in traffic, and the Bike to Work campaign to convince people to do so regularly.

HCC activities for the rest of the week
Launch of the Bike to Work (BAM) campaign – the campaign starts on the Car Free Day September 22, on the day of the Critical Mass. Until now we financed the campaign in frame of the LifeCycle project, which has come to an end. We were unable to settle with the Ministry of National Development regarding the future financing of the campaign, so this autumn there will be only a minimal budget version of the previous BAM!-s.

Imagine it on 2 Wheels contest Exhibition opening – The campaigns aim was to promote cycling among children, it was launched in June 2011. School children from all over the country could send us pictures, photos or videos about their desired bike-friendly neighborhood – how it would look like if everything was built according to their wishes. HCC organized the campaign in association with the Dutch Embassy. The prize giving and exhibition opening ceremony in Európa Pont – the European Commission Representation in Hungary – was organized in frame of the mobility week on September 19th. Click here for more pictures about the prize giving ceremony.

Robert Milders Dutch ambassador with one of the winners